PLACITAS | OUR COCKTAIL, YOUR GLASS: SPICY RED CHILE MARGARITA (2 cocktails)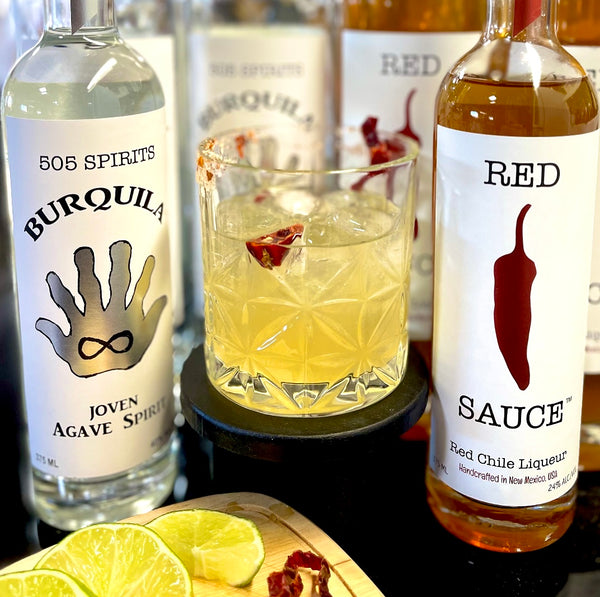 SPICY RED CHILE MARGARITA

2 COCKTAILS PER CAN (4 oz each)*  |  23% ABV (alcohol by volume)
The earthy heat from our Red Sauce Green Chile Liqueur and the smooth orange flavor from our ORANGE you glad to see me? small batch triple sec combine beautifully with our Burquila Joven Agave Spirit in this lovely, refreshing and slightly spicy, not too sweet margarita. No simple syrup here... the triple sec provides just a little sweetness, but as with all of our margaritas, these are more tart than sweet.
And for the rim, which is as delicious as it is gorgeous, we combine Jillipepper's Hot Fiesta Pepper with sea salt. 
You provide the glass and the ice, we'll bring you the cocktail & salt rim, in case you like that sort of thing. Using the salt is totally optional - it totally changes the experience. 
HOW TO SERVE
SALT RIM (optional): You decide whether or not you want salt on the rim. (See our note above.) If you like it salted, put some of the provided spicy red chile sea salt, rub a lime wedge on the rim of your glass, and dip the limed rim into the salt. You can salt the whole rim, or just part of it. 
TO SERVE: Shake cocktail before opening, then pop open the can and pour Margarita over ice in a rocks glass or shake-it-up with ice and strain, then garnish with lime. 
PLEASE REFRIGERATE UNTIL SERVING!!! We make these fresh and can them before delivery, so they are perishable! 

Ingredients: Burquila Joven Agave Spirit, Red Sauce Red Chile Liqueur, Orange You Glad to See Me? Triple Sec, and freshly squeezed lime juice. 
*We are very excited to introduce our new 505 Spirits BURQUILA Joven Agave Spirit in this delicious cocktail! We are importing this from Mexico, and it is the real deal.