our view of the sandia
Sunshine, fresh air, warm breezes... these infuse and inspire us every day!
Inspiration
New Mexico is one of the most magical places on earth. The sky, light, incredible views and fresh air are wondrous. New Mexico is also one of those special US places with truly local, seasonal cuisine. 505 Spirits was born from our love of the distinctive flavors and ingredients found here combined with our passion for making and enjoying fine food and drink.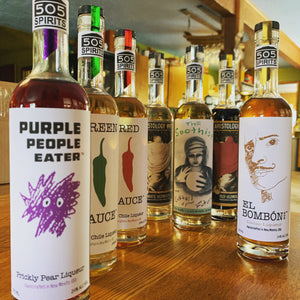 Concept
It is important to us that our brand is fun and eye catching, and to create products that are unique, recognizable, and memorable so customers can ask for them by name. We want our products to convey a premium experience from first glance to last drop, and everything we make is created to be delicious poured right out of the bottle, but also wonderful in cocktails. We also design our product lineup to complement - rather than compete with - the wonderful products that other New Mexico distilleries are producing here.
Ingredients equal flavor
Quality is a passion for us. We use only real, whole ingredients to make all of our products, from the local green chiles that we buy fresh from NM farms and roast ourselves, to the prickly pear we pick by hand in Lemitar, NM at A&J Family Farms, and rush to our freezer before they have time to start fermenting. The heritage cacao nibs we use are roasted to order for us by local chocolatier, Eldora Chocolate. We grow many of the herbs and spices that we use to flavor our products here in our distillery garden, and those we can't grow, we carefully source to ensure they are of the highest quality. Our liqueurs are made with non-GMO, gluten free corn spirit and delicately sweetened with organic, fair trade cane sugar.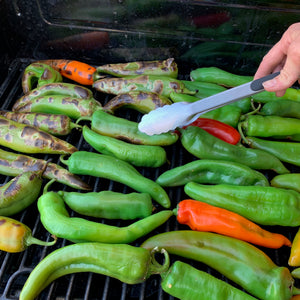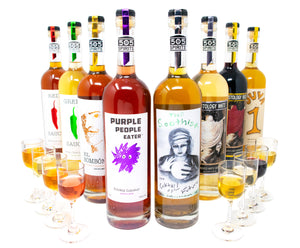 Liqueurs
The local flavors of New Mexico cuisine are the launching point for the 505 Spirits suite of premium, artisanal liqueurs produced with all-natural ingredients. Red Sauce, Green Sauce, Purple People Eater and El Bombón 505 are complex and flavorful spirits with simple, bold, eye catching labels that provide a sense of fun and make you want to share your experience with friends.
505 Spirits' liqueurs can be sipped alone, chilled, or over ice as luscious, ready to drink cocktails. They also make fun & inspiring ingredients for custom cocktails, limited only by your imagination! The liqueurs are presented at 24% ABV to allow enjoyable & responsible consumption without the need to mix or dilute.
Vermouth
The Oxford English Dictionary defines the word "aristology" as "the art or science of dining." It has been said to "encompass the preparation, combination, and presentation of dishes and the manner in which these dishes are integrated into a meal." A term rarely used since the early 1800s, we decided to revive aristology in naming our vermouths!
Painstakingly developed, Aristology Red & Aristology White vermouths are so delicious, you can sip them neat, over ice, mixed with club soda or enjoy them in your favorite cocktail. Aristology Red is warm and dusky with bright acidity and complex botanical flavors complementing its vinous character. Aristology White is dry, full bodied, lightly floral and richly botanical with herbal undercurrents and a hint of citrus.
Both Aristology Red and White are 18% ABV.
Brandy
"D'uva" in Italian means "of the grape", which is perfect for our D'UVA 1 brandy! It is a sumptuous take on brandy, richly complex, smooth and elegant. After being double-distilled in copper pot stills, D'UVA 1 is artfully aged in American oak barrels for a smooth & lightly spicy finish. 40% ABV
Premium, Pre-Mixed Cocktails
The first in our line of premium, premixed cocktails, The Soothist mysteriously combines the elegance of our rich, barrel-aged brandy with hints of spice and mint. The Soothist is The Cocktail of Your Future! Ready to drink – POUR OVER ICE – and enjoy! 34% ABV