PLACITAS | OUR COCKTAIL, YOUR GLASS: 505 PRICKLY PEAR MARGARITA (2 cocktails)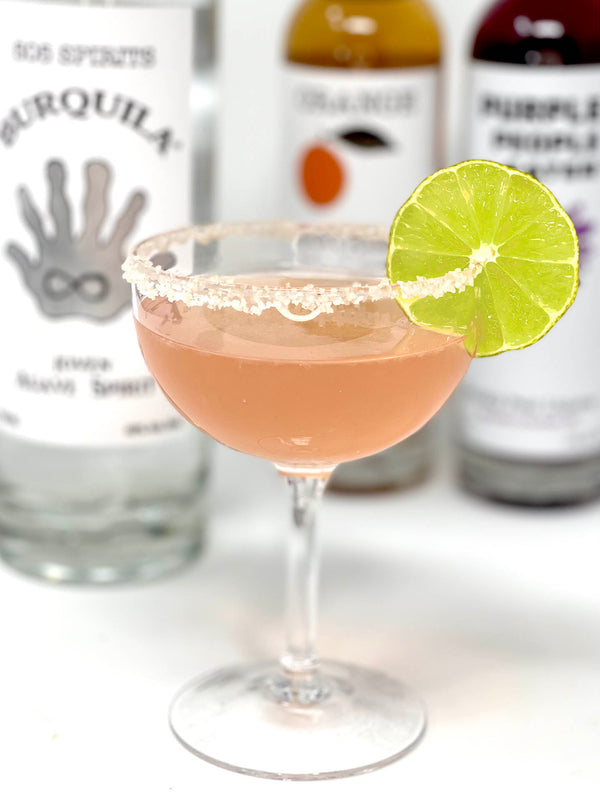 505 PRICKLY PEAR MARGARITA

2 COCKTAILS PER CAN (4 oz each)*  |  23% ABV (alcohol by volume)
We add our Purple People Eater to this classic Margarita, which adds a delicate, bright fruit flavor without being too sweet and gives the slightest blush to the color. 
We make these with our new BURQUILA Joven Agave Spirit*, Purple People Eater, our Orange You Glad to See Me? Artisan, Small-Batch Triple Sec and freshly squeezed lime juice. No simple syrup here... the triple sec provides just a little sweetness, but these are more tart than sweet. 

You provide the glass and the ice, we'll bring you the cocktail & salt rim, in case you like that sort of thing. Using the salt is totally optional - it totally changes the experience. 
HOW TO SERVE
SALT RIM (optional): You decide whether or not you want salt on the rim. (See our note above.) If you like it salted, put some coarse kosher or sea salt on a small plate, rub a lime wedge on the rim of your glass, and dip the limed rim into the salt. You can salt the whole rim, or just part of it. 
TO SERVE: Shake cocktail before opening, then pop open the can and pour Margarita over ice in a rocks glass or shake-it-up with ice and strain, then garnish with lime. 
PLEASE REFRIGERATE UNTIL SERVING!!! We make these fresh and can them before delivery, so they are perishable! 

Ingredients: Burquila Joven Agave Spirit, Purple People Eater Liqueur, Orange You Glad to See Me? Triple Sec, and freshly squeezed lime juice. 
*We are very excited to introduce our new 505 Spirits BURQUILA Joven Agave Spirit in this delicious cocktail! We are importing this from Mexico, and it is the real deal.