PLACITAS | 505 SPIRITS NM FLAVORS & MIXERS AT HOME HAPPY HOUR KIT! (WITH LIQUOR, WITH OR OUT BAR TOOLS)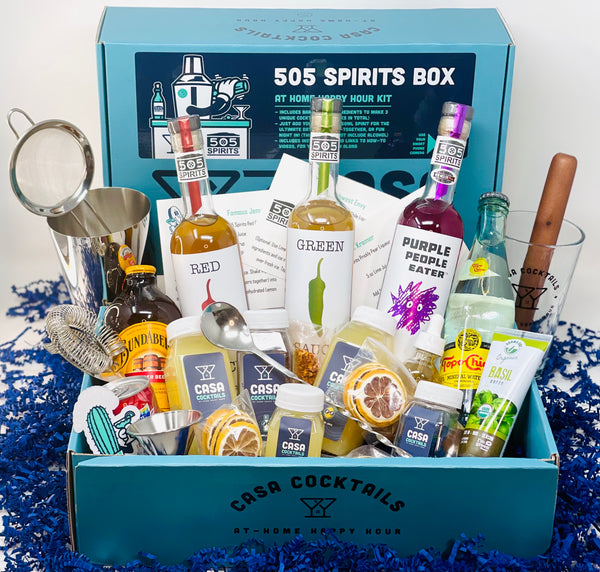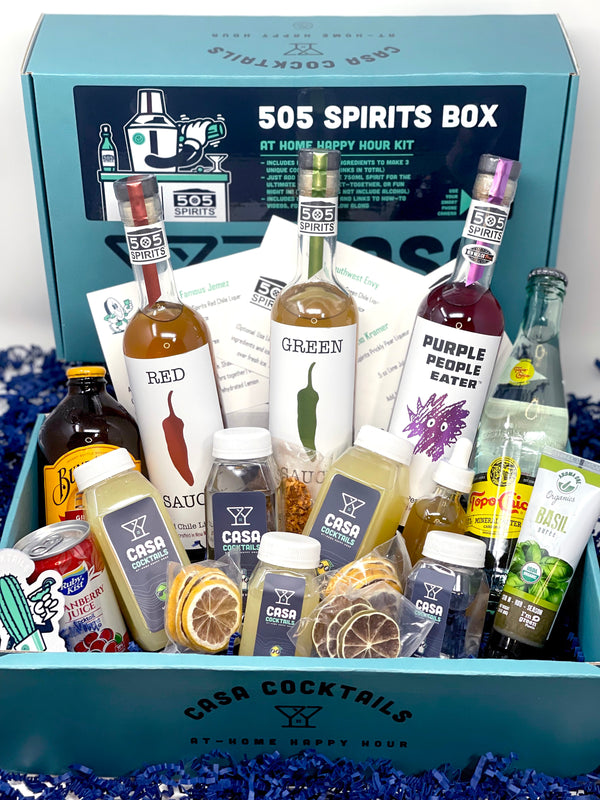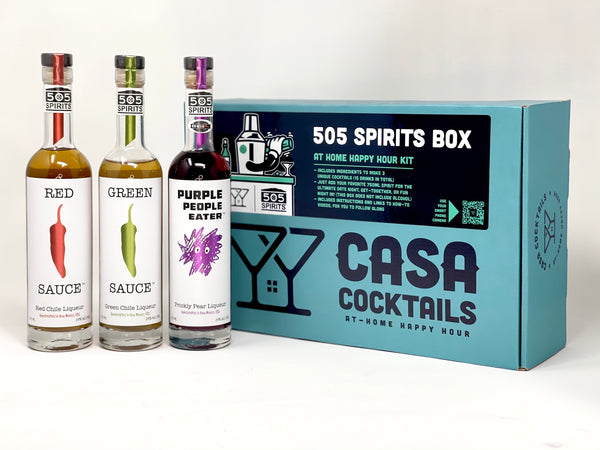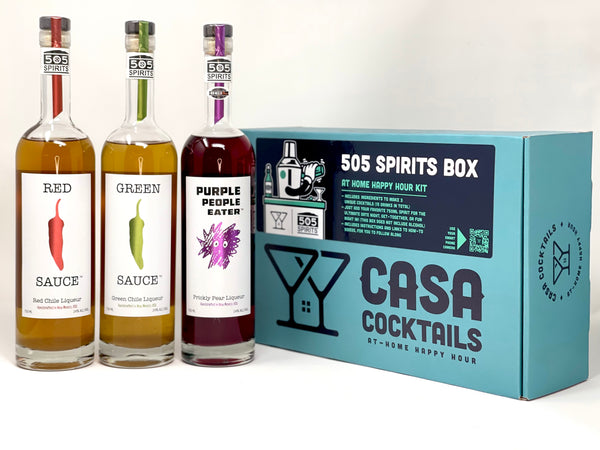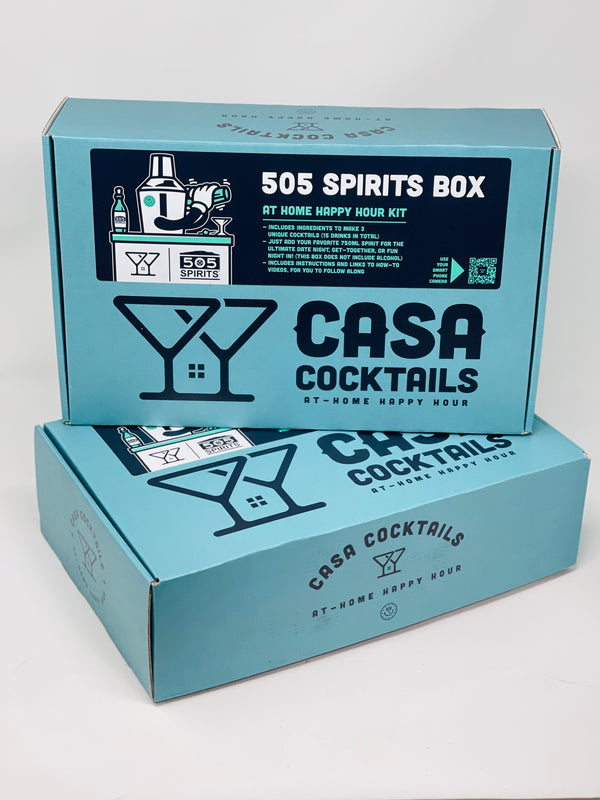 505 SPIRITS NM FLAVORS, MIXERS AT HOME HAPPY HOUR KIT! (With LIQUOR, with OR without bar tools) by Casa Cocktails
SAVE 10% ON OUR SPIRITS WHEN YOU PURCHASE THIS KIT! 
This is an AMAZING gift, and PERFECT instant party, delivered right to your door in Placitas! This awesome kit has spirits, mixers, garnishes, and recipes to make more than 15 delicious, New Mexico themed cocktails, created specifically for this box! (5 each of 3 different cocktails, PLUS bonus ginger beer mules!) We have partnered with our friends at local NM business, Casa Cocktails, to create this 505 SPIRITS BOX.  
Available with or without bar tools (select options when adding to cart).
Cocktails include: 
Famous Jemez: Red Sauce Liqueur, lemon, basil...
Southwest Envy: Green Sauce Liqueur, pineapple, lime, orange bitters...
Cosmo Kramer: Purple People Eater Liqueur, cranberry, lime...
505 Mule: Any of our included liqueurs plus lime juice and ginger beer... 
Each kit contains the following*: 
Purple People Eater Prickly Pear Liqueur (your choice of 375 ml or 750 ml)
Green Sauce Green Chile Liqueur (your choice of

 

375 ml or 750 ml)
Red Sauce Green Chile Liqueur

 

(your choice of

 

375 ml or 750 ml)

Mixers**, recipe cards and garnishes to make three really scrumptious, unique cocktails (5 each of 3 cocktails for a total of 15!). The cocktails are Famous Jemez (with Red Sauce), Cosmo Kramer (with Purple People Eater), Southwest Envy (with Green Sauce)
Ginger beer & mule recipe card to make mules with any of the included spirits (each makes a really yummy mule!)
Garnishes for all the cocktail
Optional Bar tools (select options to add to cart): 
Bar tools:

 

Boston shaker(stainless steel tin and pint glass), jigger, bar spoon, 2 prong coil strainer, fine mesh strainer & muddler. 
You decide whether your set will include 375ml or 750ml bottles of our spirits. If you choose 375ml bottles, making all the included drinks will use all of the spirits. If you choose 750ml bottles, you will have some of each liqueur left to sip or use in other cocktails. When you select bottle size (375ml or all 750ml), it will apply to all 3 spirits.
*The box contains mixers, garnishes, recipes and (if you select) tools. The bottles of spirits included and delivered with your kit will be in a separate bag.  
**Mixers include: Lemon juice, lime juice, pineapple juice, cranberry juice, triple sec (non-alcohol), basil puree, orange bitters, ginger beer, soda, dehydrated orange/lime/lemon slices & spicy Jillipepper salt rim mix.