PLACITAS | OUR COCKTAIL, YOUR GLASS: 505 SIDECAR (2 cocktails)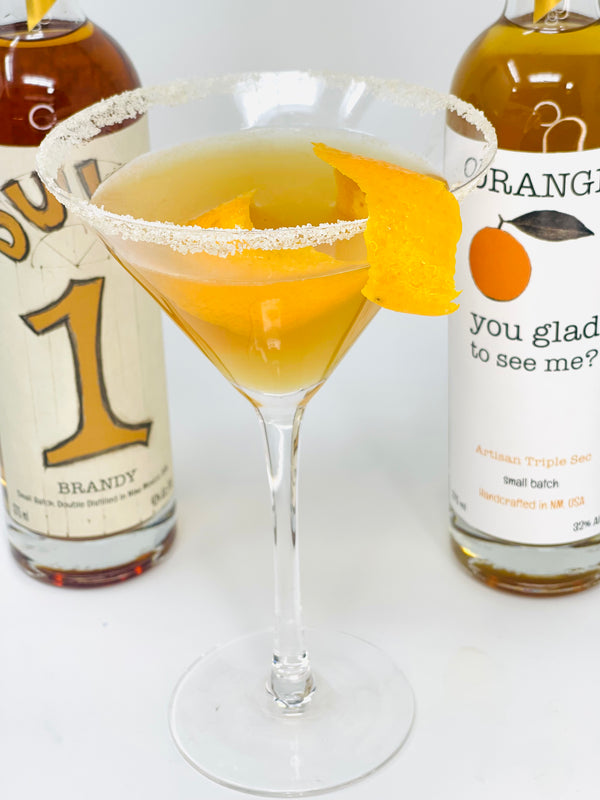 505 SIDECAR

2 COCKTAILS PER CAN (3.75 oz each)*  |  30% ABV (alcohol by volume)
Our double-distilled, copper pot D'UVA 1 brandy and our Orange You Glad to See Me? Artisan triple sec combine with fresh lemon juice and just a hint of organic honey. This is a perfect cocktail any time of year, and is a favorite at the distillery!
You provide the glass, ice & orange or lemon peel garnish & we'll bring you the cocktail & organic sugar rim!
*Please note that, due to the high proof of these, each can contains 2, 3.75 oz cocktails. Our cans are 8oz, so they are not completely full here, but rest assured, you are getting your money's worth with these!  
HOW TO SERVE
Prepare your glass: rub glass rim with lemon or orange wedge and dip in sugar (included). 
Pour cocktail over ice in a rocks glass or shake-it-up with ice and strain, then garnish with twist of lemon or orange zest. 
PLEASE REFRIGERATE UNTIL SERVING!!! We make these fresh and can them before delivery, so they are perishable! 

Ingredients: D'UVA 1 brandy, Orange You Glad to See Me?, fresh lemon juice and a teeny bit of organic honey.